40+ Trendy Christmas Nails To Try This Holiday Season (2023)
The holiday season is upon us, and it's time to light up our lives with the enchantment of Christmas, right down to our fingertips.
Here at She Be Thriving, we're excited to share our ultimate guide to Christmas Nails that'll have you rocking around the Christmas tree in style.
Can you picture twinkling lights, cozy nights, and the sweet scent of gingerbread in the air? What better time to let your creativity run wild and express your holiday spirit through some delightful nail art?
Whether you're a pro nail artist or a newbie searching for inspiration, we're here to make your Christmas nails look stunning and nail-ready for the holiday season.
So, grab your favorite festive nail polish, snuggle up by the fireplace, and let's get inspired by these 46 Christmas nail designs you can try this year.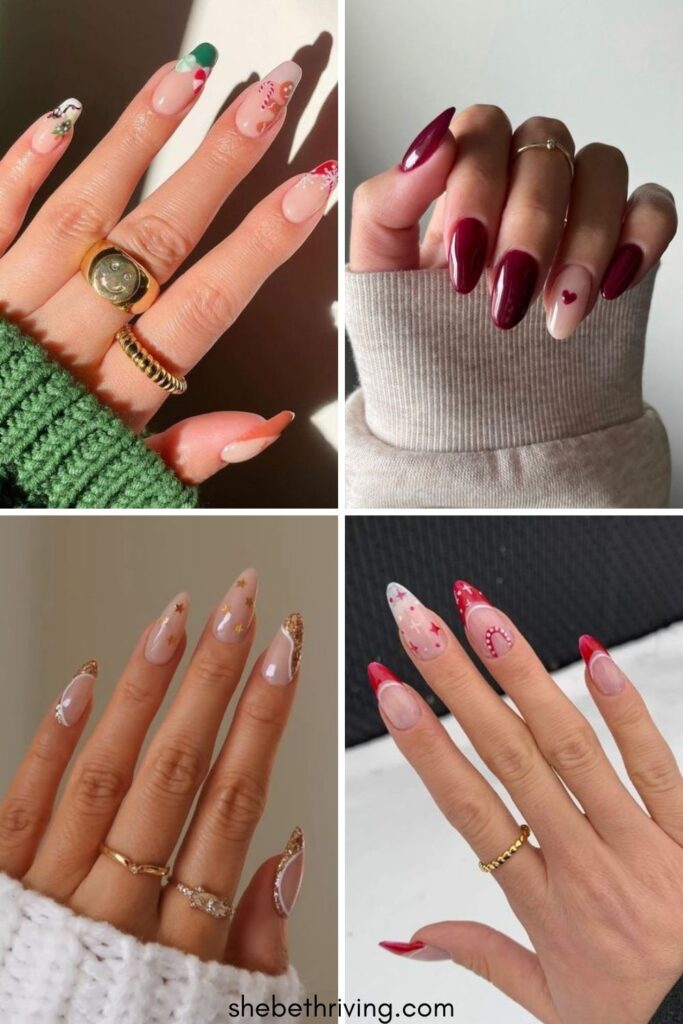 This post is all about trendy Christmas nails for this holiday season.
This post contains affiliate links, which means we receive a small commission, at no extra cost to you, if you make a purchase using this link. Please see our disclosure for more details.
Trendy Christmas Nails To Try This Year
1. Emerald and Silver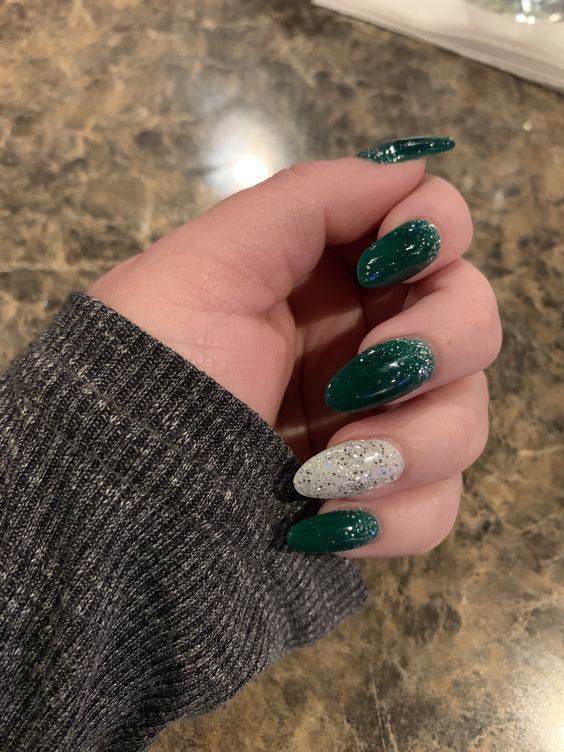 Get ready to embrace the holiday season with the delightful charm of emerald and silver nails! These nails capture the essence of the holiday season, blending sophistication with fun. Whether you're gearing up for a festive soiree or simply want your nails to radiate holiday cheer, emerald and silver colors are the perfect choice. We love these two colors together so much!
2. Cute penguin nail art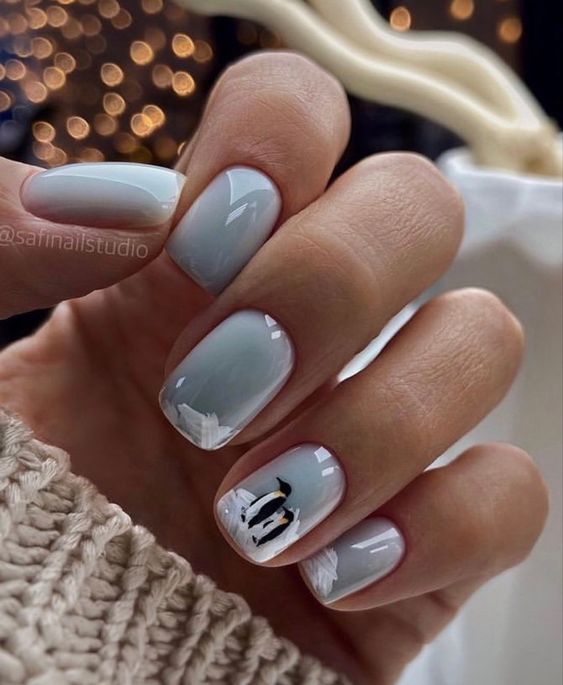 How cute is this penguin nail art! We are obsessed with the creativity with how simplistic yet creative this idea is. This simple nail art idea is definitely a nail trend you don't want to miss this holiday season!
3. ombré star nails
This mesmerizing nail art captures the enchantment of a crisp, clear winter's night. Imagine deep, inky blues adorned with sparkling stars that twinkle like real constellations. It's like having a piece of the night sky right at your fingertips. These nails are pure magic, perfect for any festive occasion. Honestly, it's giving us Lavender Haze vibes by the one and only, Taylor Swift.
4. Christmas lights
Aw, aren't these nails the absolute cutest? It's none other than Christmas Light Nails, and they're here to add a festive twist to your holiday style. Just imagine your nails decked out in tiny, twinkling Christmas lights, ready to make you the star of the holiday party! These nails definitely spreading cheer with their vibrant and playful design.
5. Glittery gold and silver accents
If there's one time of year when you can never have too much sparkle, it's the holiday season. Are you ready to let your nails steal the spotlight this season? Get ready to sparkle and shine!
6. Santa Claus
Santa Clause is coming to town! If there's one figure who embodies the spirit of Christmas, it's the jolly old man himself, Santa Claus – haha. We thought these nail designs were so cute to get inspired by this Christmas!
7. Nutcracker-themed nails
Needless to say, we are obsessed with how the nutcracker looks on these nails. This nail art definitely does not look easy, but it turned out SO good.
8. Icicle-inspired
You can seriously never go wrong with a simple icicle-inspired ombré nail design, especially for the holiday season! We love how minimalistic, yet stunning these nails look!
9. Snowy French tip nails
Our hearts are melting over these gorgeous nails. These snowflake design nail art are so elegant and is seriously giving us cozy winter vibes. Are we the only ones that feel this way?!
10. RED AND WHITE
We're absolutely gushing over these nails! Red and white, no doubt, are the trendy colors of Christmas, so you really can never go wrong with these colors and creating more of a minimal, chic look.
11. Glitter gradient
Purple ombré nails might just be the new trend for Christmas this year. We are obsessed with how stunning these nails look. Ombré french tip nails are seriously so trendy and popular for every season of the year.
11. GREEN AND WHITE PATTERNS
How cute is this! We love the green and white patterns for this nail art design. They're perfect for a cozy, winter vibe.
12. red and white stripes
Ready to flaunt the cutest and most festive nails this Christmas season? These red and white nail art designs are so elegant and look like a winter wonderland.
13. black and red designs
Imagine your nails designed with the classic combination of bold black and striking red, and you've got a look that's cute, chic, and absolutely festive. These nails are a style statement that perfectly captures the holiday spirit with their timeless and striking design.
14. Christmas everything
Not gonna lie, we're kind of obsessed with the accessories and color of the sweater – but dang, just take a look at those nails! If you want everything Christmas on your nails, this look is it! We are in loveee.
15. midnight sky
Talk about a daring bold french tip look for Christmas this holiday season! We love how simplistic, yet chic this look is.
16. frozen
We are definitely getting ice queen or Frozen vibes with these magical, icy nails. Wow, we're literally melting at the sight of how gorgeous these nails are.
17. snowflakes and gnome
Sleek and stylish, black and white nails are always in fashion. The combination of black and gold exudes a sense of luxury and sophistication. We love how simple, yet cute this look is!
18. BLUE FRENCH TIP
For a stunning holiday nail look, choose blue classic French nails. French nails offer an understated and sophisticated look.
19. MATTE nails
Get a taste of the holidays with these blue Christmas nail designs. Blue nails are trending this Christmas, while bringing a sense of joy and holiday cheer to your look.
20. PRESENT NAILS
Though purple might not seem like a trendy this holiday season for nails, you're wrong about that! This purple, patterned nail art is perfect for this holiday season. With neutrals and cute patterns, you can be sure that these will be trending this Christmas.
21. hot red nails
We love how hot these nails look! With red and white stars, you really can't wrong with how edgy and full of personality this overall look is. We love its appeal, for sure!
22. GOld and green
You don't really see green and gold as a nail combination compared to red, white, and green. But we love how elegant and classy this whole look is. It goes perfectly with any elegant outfit you wear!
23. candy sparkles
Sparkles and candy for Christmas?! Heck ,yes. This manicure is dreamy and the epitome of Christmas. We love how this look turned.
24. cute grinch nails
Aw! This nail art design looks so cute – we love the Grinch movie first of all. But just imagine how difficult this must have been to create. If you're looking for a Christmas-themed character to put on your nails, this is it!
25. white, gold, and black
These nails are what Christmas is made for. They're bold, vibrant, and so fresh! We love how stylish these nails look and they add just the right touch of magic to them.
26. disney christmas
Can anyone count how many Mickey Mouse they see on these nails? We absolutely love how creative and colorful these nails are! Love, love, love!
27. festive nails
These nails are fun and cozy. This sharp almond shape design is the focal point of creating a clean-cut look and making this nail art stunning.
28. champagne toast
An elegant, simple Christmas look is one you can never miss. This also gives off luxurious, classy vibes. You can pair almost any outfit with this cute nail look!
29. the blues
Want to go for a cutting edge, sharp look that will make you feel daring and bold? These blue hues are perfect for the holiday season!
30. christmas sweater
Aw! This Christmas nail art is adorable – definitely one of our favorite Christmas nails to try this year. Definitely ask your nail tech if they can recreate that cute penguin with heart balloons!
31. Christmas Cactus
We didn't even know Christmas cactus was a thing until we stumbled upon this cute nail look! This manicure is the epitome of cute and creative.
32. purple christmas
It's a purple Christmas in this town. Purple is a trending color this holiday season and it helps that this color matches white and neutral colored sweaters. P.S. we're obsessed with how the snowman looks – because look at its scarf!
33. Gingerbread
Gingerbread nail designs are so popular and will continue to be popular and trendy this winter season. There's so much coziness and cuteness on each nail. In order to keep your nail shape round, be sure to file your nails into the round shape.
34. pink christmas
This is the first time we've seen hot pink Christmas nails, but you bet this is a bold, super cute look that you can try this Christmas. Instead of going with the norm of the traditional Christmas colors, why not try something new this season? We'd love to see you rock it!
35. Gradient nails
Wow, we're just melting looking at how mystical and stunning these nails are. Talk about magic and elegance. These nails are so sophisticated and perfect for the Christmas season.
36. candy cane
Looking for a minimalistic, Christmas-inspired nail look? These candy cane nails are it! They are perfect for short nails as well.
37. GNOME NAILS
If you feel like you just entered a whimsical fairylike universe just by looking at these nails, you're not alone. We are in love with how unique each nail looks! Be prepared to spend a while for your nail tech to recreate this look but the finish look is soo worth it.
38. peppermint
Peppermint. This is the look of warmth and coziness of the winter season. This glossy, swirly look looks so dreamy and fabulous – we just can't get enough of it!
39. red and gray
Get a taste of the holidays with this bold, matte-colored gray and red nail art. A pop of gray adds a trendy twist to your nails this holiday season!
40. green and beige
We are obsessed with this green and beige look for Christmas. Literally. We don't see very often these two color combinations but we were surprised at how great they turned out. Not to mention how cute each nail design is!
41. drunk in love
We had to name this nail design Drunk in Love because well, we're in love with this dark red wine color look. This dark bold red cannot describe the holiday season anymore than it shows.
42. christmas colors
Dreamy and cozy is exactly what this nail art looks like! Pair these trendy Christmas colors with minimalistic rings and you've got the look.
44. blue and bold
Going for a dark, bold look this Christmas that will make you feel like a girl boss? This look is it!
45. red and green french tip
If you're a French tip type of gal, this Christmas red and green look is perfect for you!
46. dark green
Last but not least, we've got the dark green bold look because all the hues of green are going to be trending this Christmas. We love how unique each nail design is! They're all so pretty – we're gushing!
Final thoughts
Whether you're sipping hot cocoa by the fire, rocking around the Christmas tree, or just enjoying the cozy moments, your holiday nail art is something you get to have fun with this season.
Trust us, every one of these looks will have you stopping to stare at your nails every now and then. We bet they will turn out so cute!
So don't be afraid to get creative, make a statement, and have a blast with your Christmas nail art. 'Tis the season to let your nails shine bright, just like your festive spirit.
We wish you a holiday season filled with cheer, joy, and, of course, fabulous nails. Happy holidays and happy nail decorating!
This post was all about trendy Christmas nails to try for this holiday season.
You also might like
17 Neutral Christmas Decor Ideas & Inspiration For Your Home
The Ultimate Guide to Stylish Winter Wedding Guest Dresses
30 Most Thoughtful Christmas Gift Ideas For Girlfriend (2023)