The Ultimate Friendsmas Ideas Guide To Throw The Best Party Ever
Thinking of hosting your first Friendsmas party? Friendsmas is such an exciting time to get your closest group of friends together to celebrate the cozy, winter season.
Just imagine playing games together, throwing on holiday music, and eating delicious food together. This is what Friendsmas is all about: a good time with friends.
If you have no idea where to start, you've come to the right place. This guide will give you all the best Friendsmas ideas to throw your best party yet.
Let's jump into it!
How do you celebrate Friendsmas?
There is no right or wrong way to celebrate Friendsmas. Ultimately, Friendsmas is a celebration among friends to cherish the holidays together and make fun memories. Hosting a Friendsmas can look very different for everyone. Some people like to host a Friendsmas at a fancy dinner venue or others like to host a party at their own home and invite people. In this guide, we'll specifically be sharing Friendsmas ideas to host your own party.
How do you host the best Friendsmas?
If you're hosting your first Friendsmas, of course you want it to be a fun time for you and everyone else. We do want to encourage you to take the pressure off of trying to make everything absolutely perfect for your Friendsmas party. Perfection will only make you more stressed out!
One way to host a fun, stress-free Friendsmas is to plan ahead. Plan 2 weeks ahead to start brainstorming and thinking about finding a Friendsmas date that works for everyone. Holiday season is a busy time for everyone! Coordinate your schedules earlier to increase the chances of getting an RSVP earlier.
This post contains affiliate links, which means we receive a small commission, at no extra cost to you, if you make a purchase using this link. Please see our disclosure for more details.
The Ultimate Guide To Your Friendsmas Party
When you're planning a Friendsmas party, there are three things you want to consider first:
Who to invite to your Friendsmas
Where to host the Friendsmas party
When to host Friendsmas
Who you want to invite is totally up to you! If you choose to have a small, intimate party, then invite your closest friends. On the other hand, if you choose to make it a large gathering, you can extend the invite to your close friends, who can invite other people.
The second thing is where do you want to host your Friendsmas party.
Want to rent out an Airbnb and have everyone chip in? Or host it at your own place? If you choose to host it elsewhere, you can ask your friends to chip in a donation of $20-30 depending on how much the rental fee is.
The third thing is when to host your party.
We suggest you send out your invitations 1-2 weeks prior to the party. Ask your friends if they can RSVP by a certain deadline, so you can get a headcount on how many people will attend.
To recap: Decide who you want to invite to your Friendsmas party, where to host it, and when to host the party. 
So the first thing you want to do after you've figured out the 3 steps above is to start sending out Friendsmas invitations.
Friendsmas invitations
You can actually find a lot of free Friendsmas invitations on Canva. Whether you choose to print out your invites or send them digitally, you can easily create a Canva account and save some money.
We listed a few of our favorite budget-friendly Friendsmas invitations to save you time to print the invitations yourself.
Paper Invitations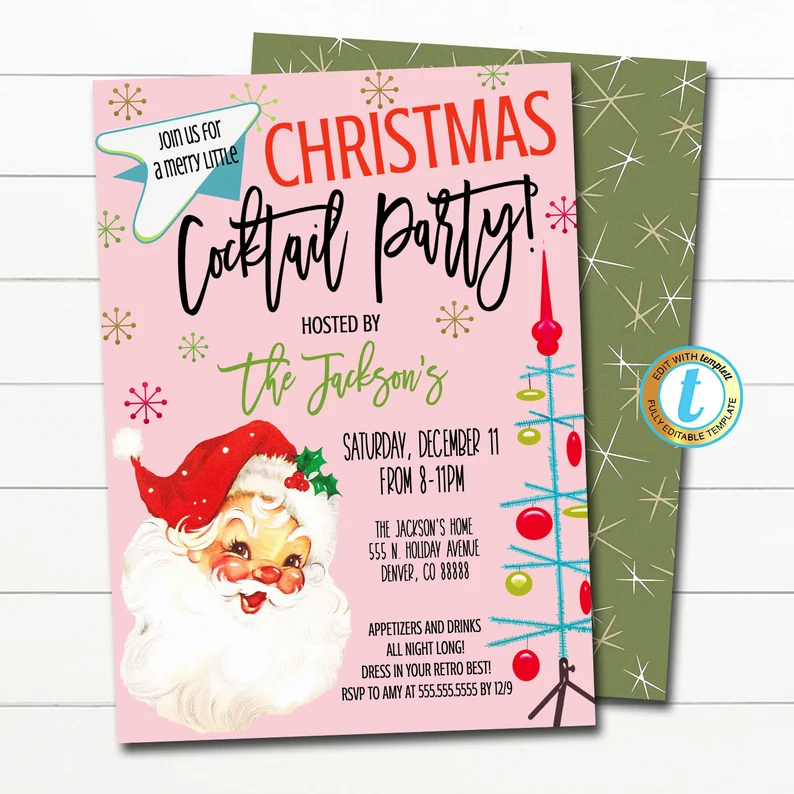 Digital Invitations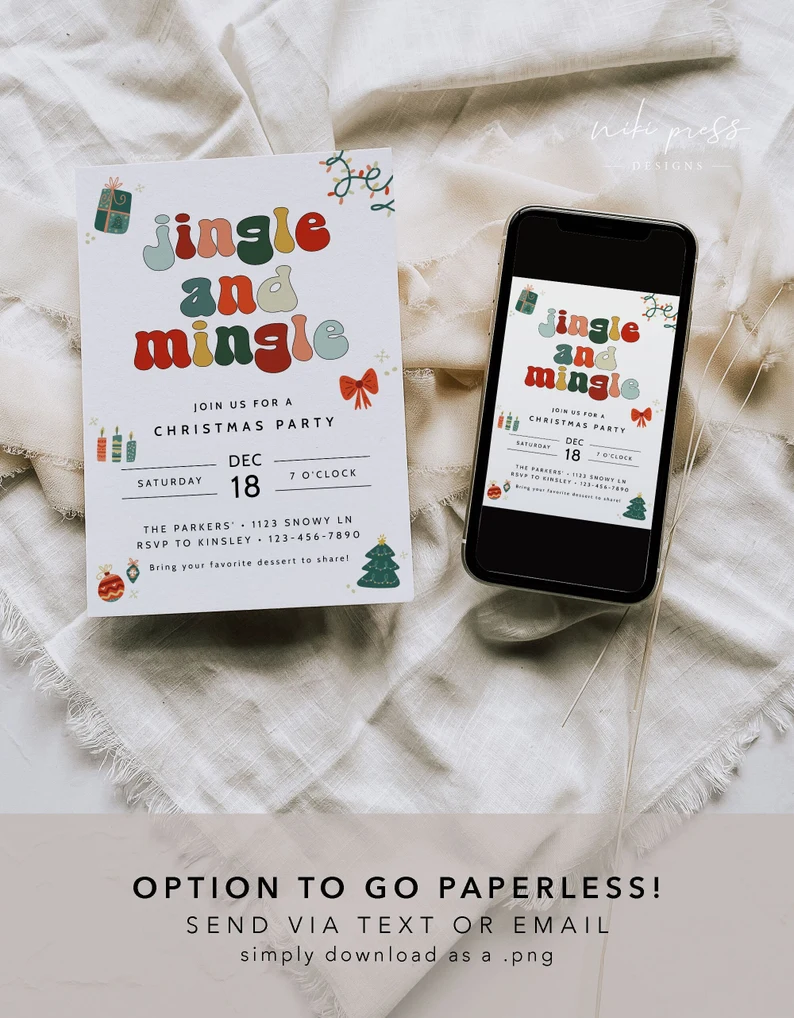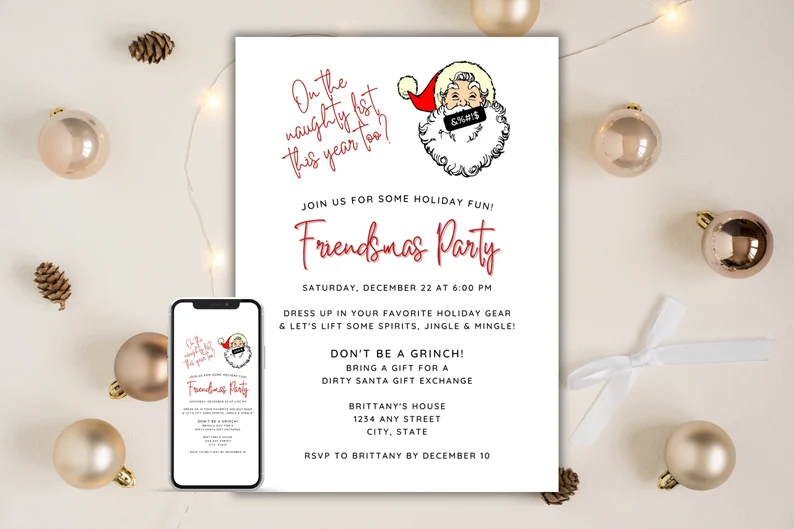 Once you've set out those invites, it's time to start thinking about your Friendsmas party set-up and decor! This is the fun part where you get to put on your "party planner hat" and decide what kind of theme you'd like to go far.
To keep it simple and stress-free, here are some ideas that you can get inspired by. We've also spent hours researching party favors and decor for your Friendsmas so you don't have to do the work.
Want this Friendsmas game bundle?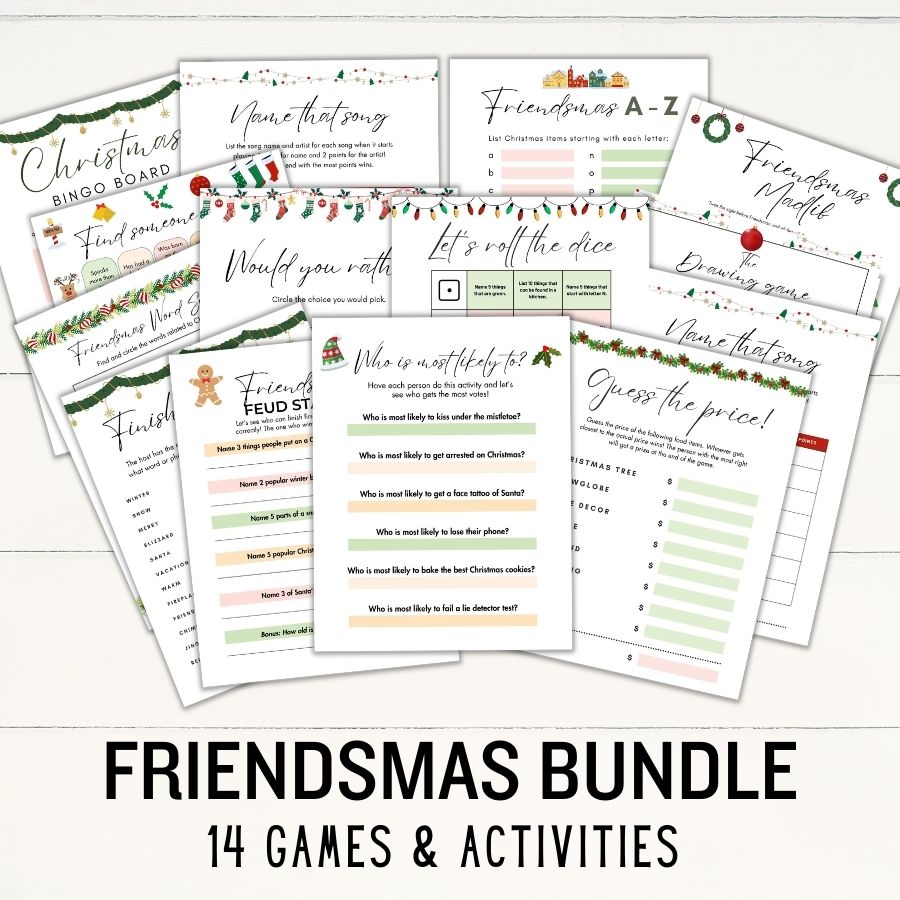 Friendsmas Banner Ideas
These Friendsmas banner ideas are so cute! Honestly, banners make such a difference in decorating your space to make it feel welcoming for your party guests.
We recommend having a banner to place on your living room wall or hang outside your door to welcome guests!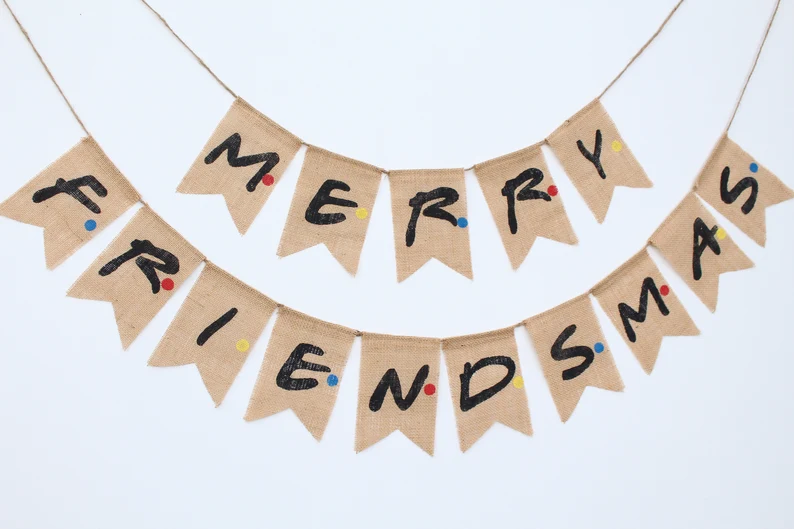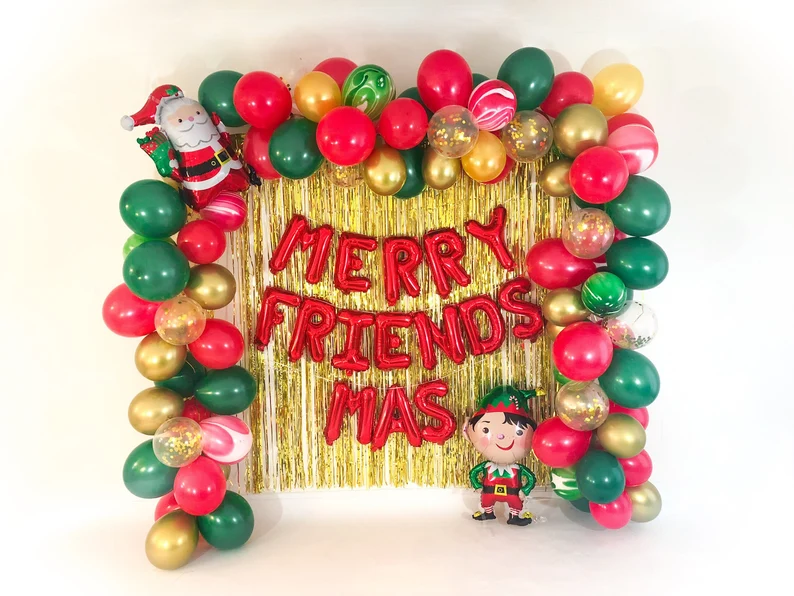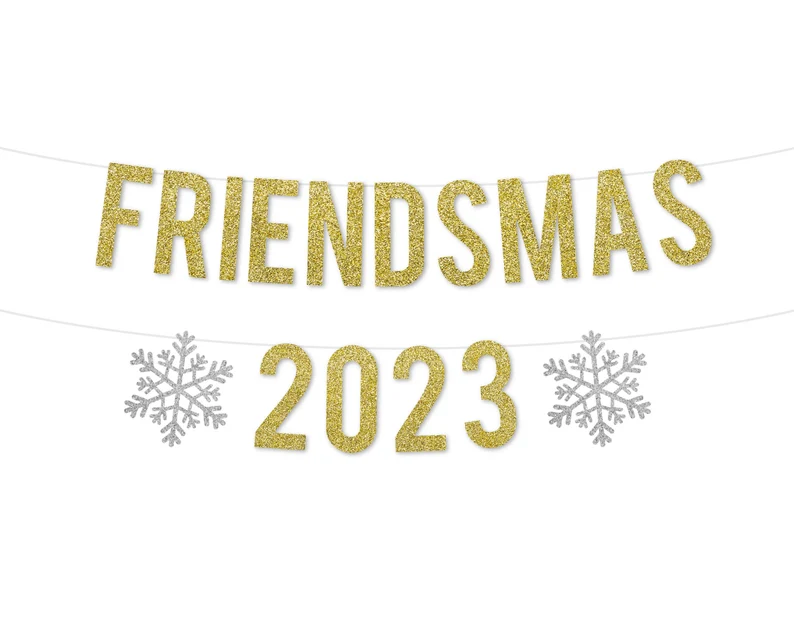 Friendsmas Decor Themes
The color themes for Friendsmas coincide with the Christmas colors: red, green, and gold! If that's the vibe you want to go for, then by all means, go for it!
What you choose for your color theme will help determine what kind of decorations you'd like to put up for your Friendsmas party!
We've put together some Friendsmas decor themes that you can get inspiration from. Let's take a look!
Red and green friendsmas theme
This Friendsmas theme with red and green napkins is perfect for your party! Want to go for this theme? Simply click on the text!
Christmas garland around doorway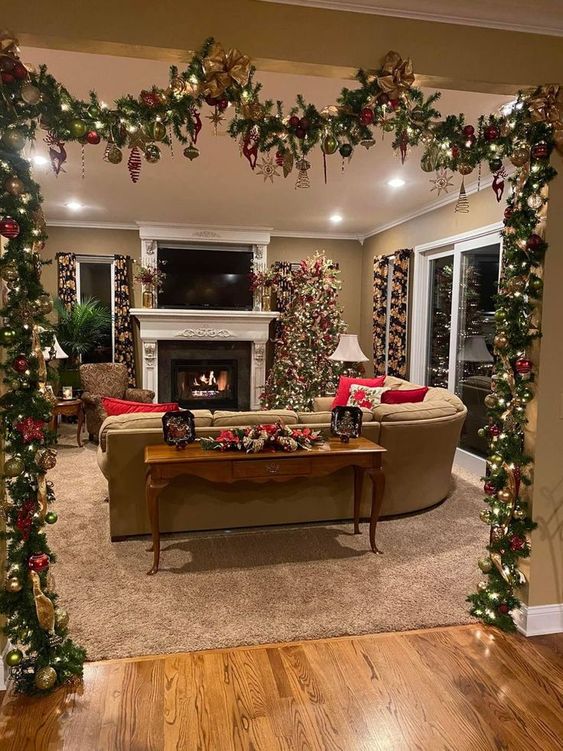 Want to decorate your entire door frame with Christmas garlands? This is a classic, beautiful way to decorate your home for Friendsmas. It brings a cozy vibe that really lights up the room.
Get your decor from here:
deck the MISTLETOE theme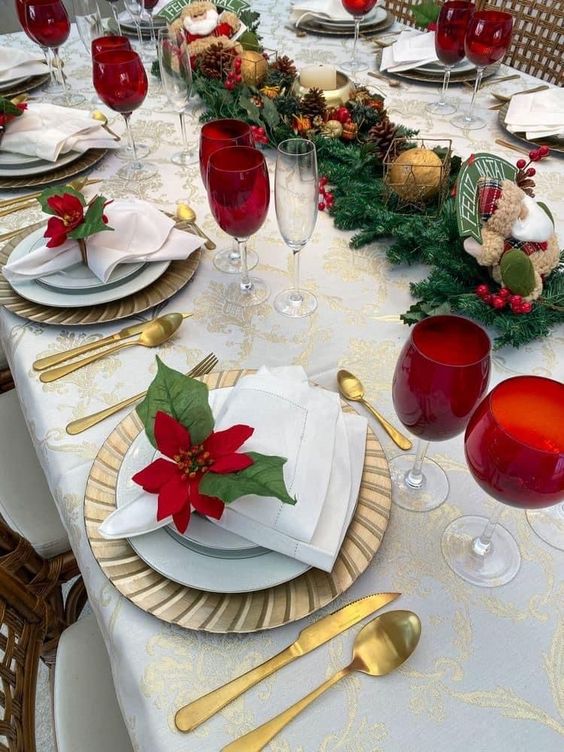 Going for a more elegant look? Wrapping white napkins with a cute mistletoe and having red wine glasses is such a cute, classy Friendsmas idea!
Here's where you can get them:
peppermint theme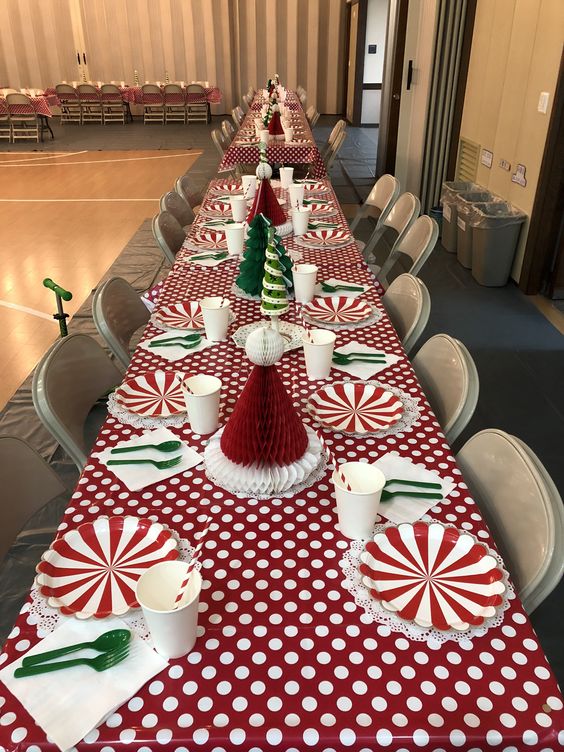 We seriously think a peppermint party would be so cute for Friendsmas!
If your friends have trypophobia (fear of holes), you might want to consider changing the tablecloth, though.
You could change it to a solid red-colored tablecloth! Here are the items:
We hope you were able to get inspired by these Friendsmas table settings above. Here is some inspiration you can use to decorate parts of your home.
ribbons for your cabinets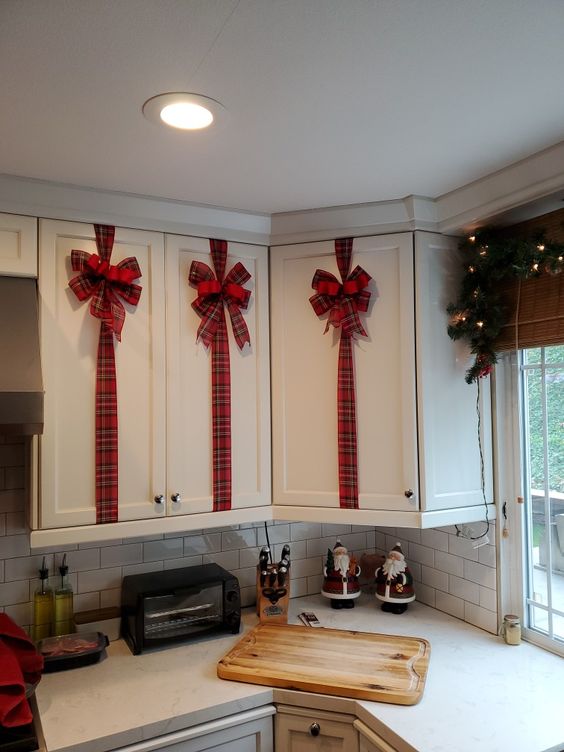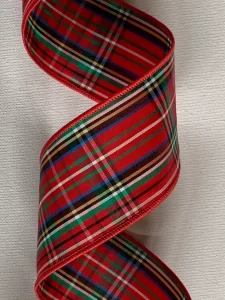 centerpiece ideas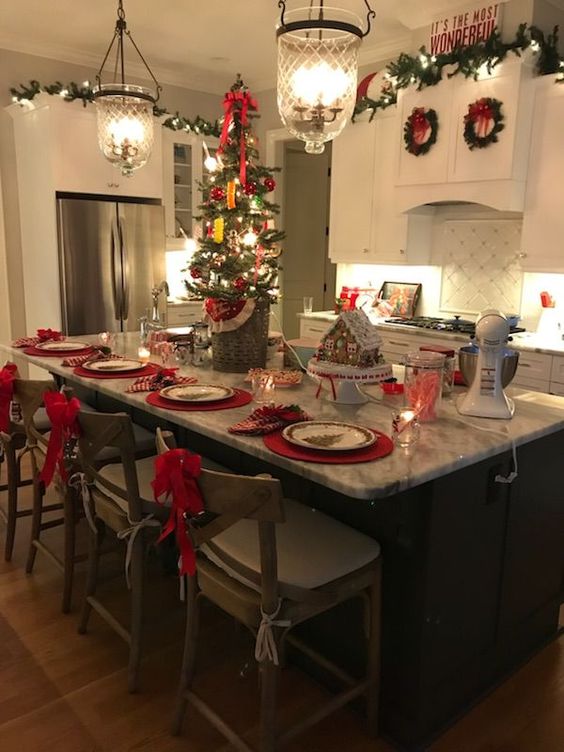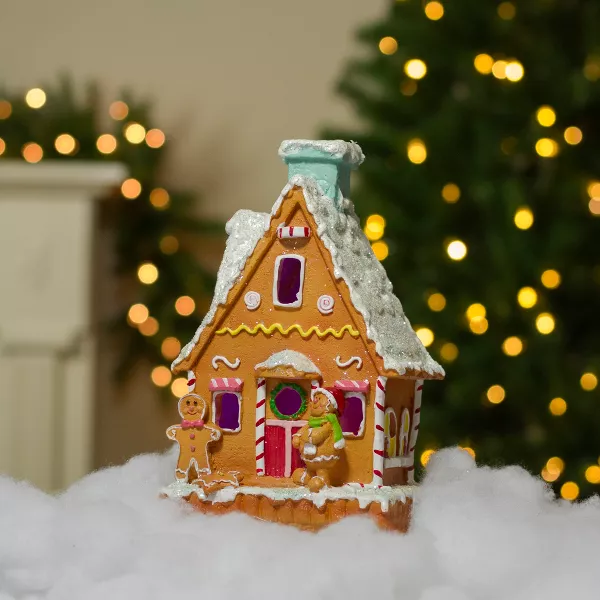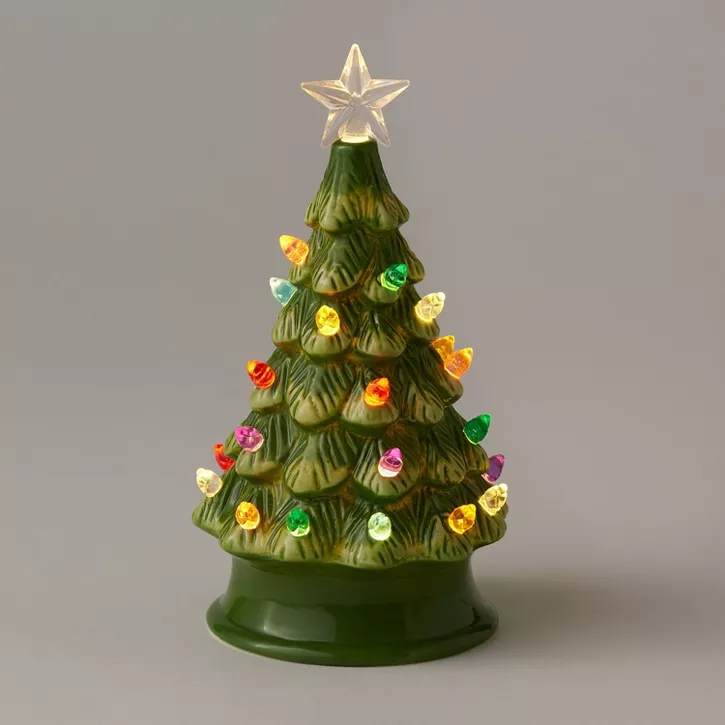 CHRISTMAS THROW PILLOWS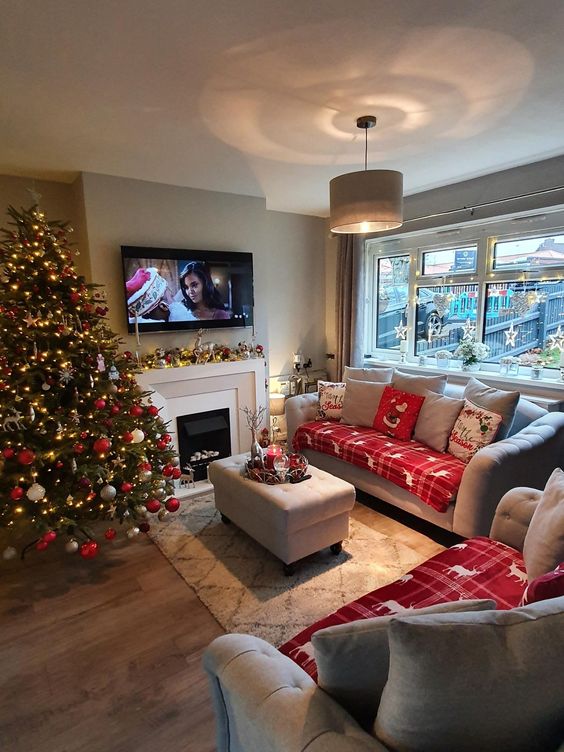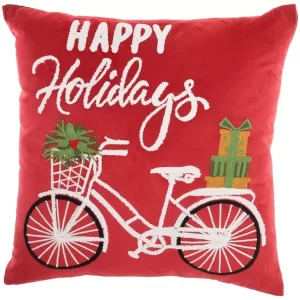 CHRISTMAS GARLAND AT STAIRCASE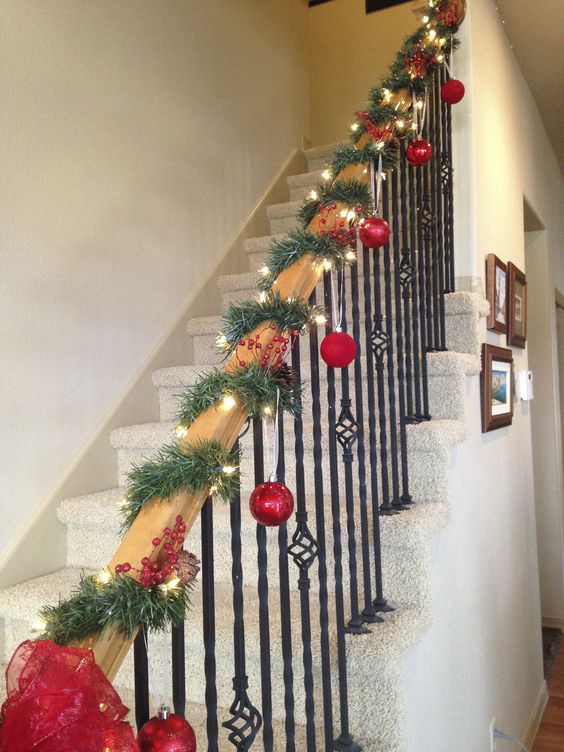 CHRISTMAS STOCKINGS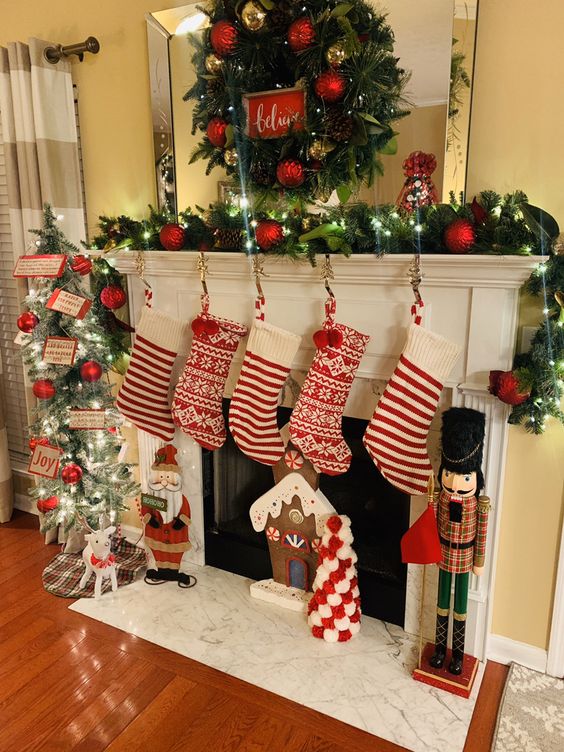 FriendsMAS TABLEware essentials
If you're looking for cute Friendsmas tableware for your party, these are great ideas you can use! We personally think the Friendsmas toppers for cocktails is such a cute idea!
Friendsmas Food Ideas
You really can't forget about the food at a Friendsmas party! What's Friendsmas without food?!
From a hot cocoa bar to pasta and pizza, these food recipes and cute Friendmas ideas will help give you a head start on what to prepare for the fun event.
If you are hosting a potluck, you can prepare a 1-2 dishes from this list or buy them to save some time.
have a mini diy hot cocoa bar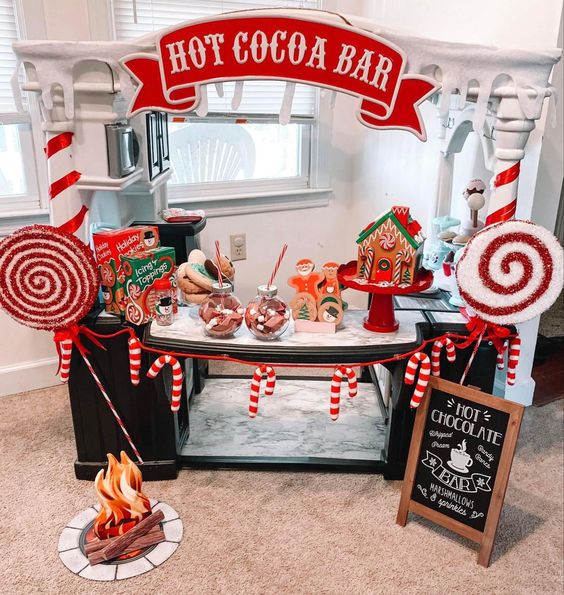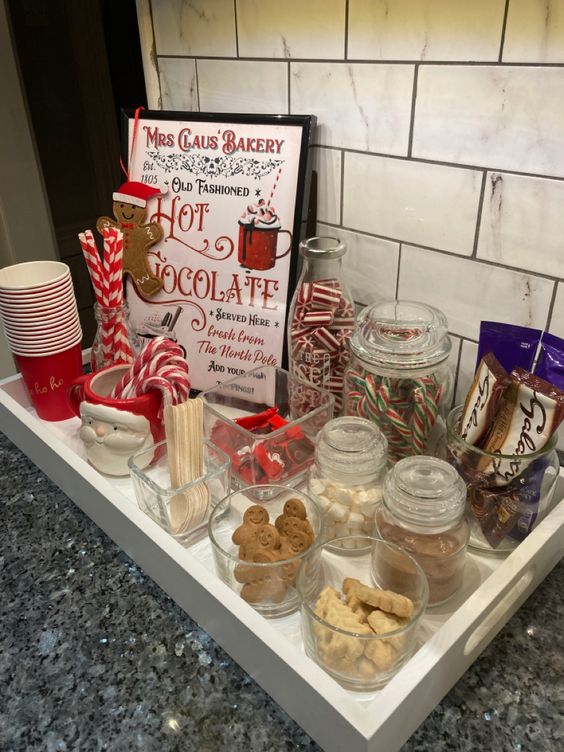 We thought this would look so cute to have at your Friendsmas party! A mini DIY hot cocoa bar will be such a fun addition to put in your kitchen or an area of your living room if you have space.
Here is what you'll need:
Grinch FRUIT KABOBS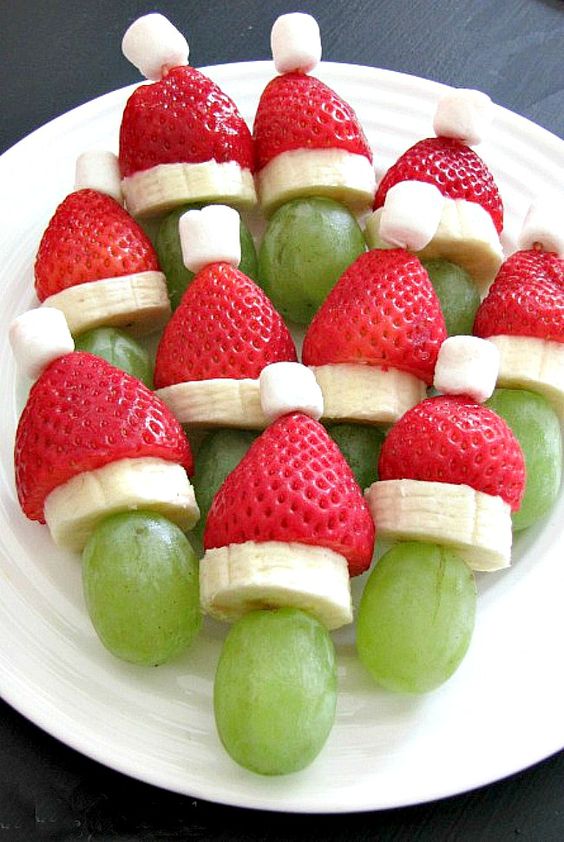 We seriously thought these were so cute to add as a healthy snack to your party.
This super easy recipe consists of grapes, bananas, strawberries, and mini marshmallows at the top.
Keep in mind that bananas tend to turn brown very quickly, so we recommend making these closer to the party time.
CHEESY CHRISTMAS BREAD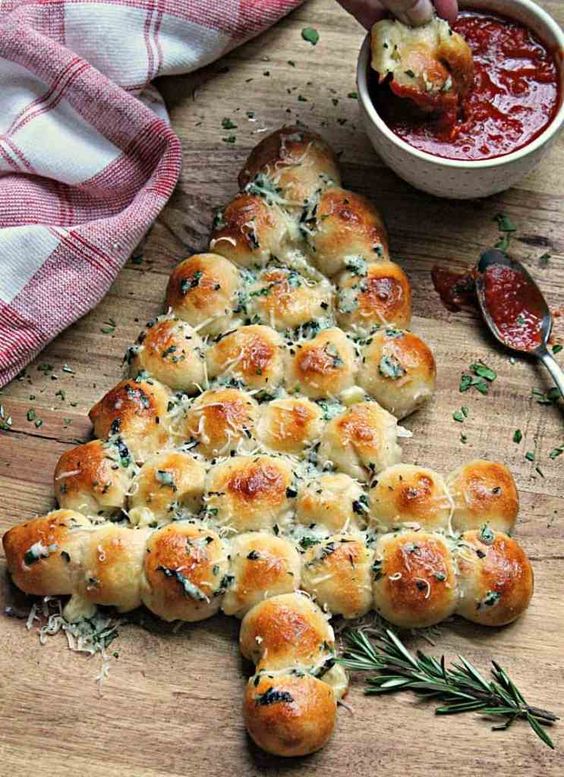 This delicious Christmas tree pull apart bread will be a hit at your party.
To make this recipe, you'll need:
parchment paper
mozzarella cheese sticks
egg
butter
grated parmesan cheese
parsley
rosemary
basil
grated garlic
Find out more detailed instructions in this post.
Mini sausage christmas wreath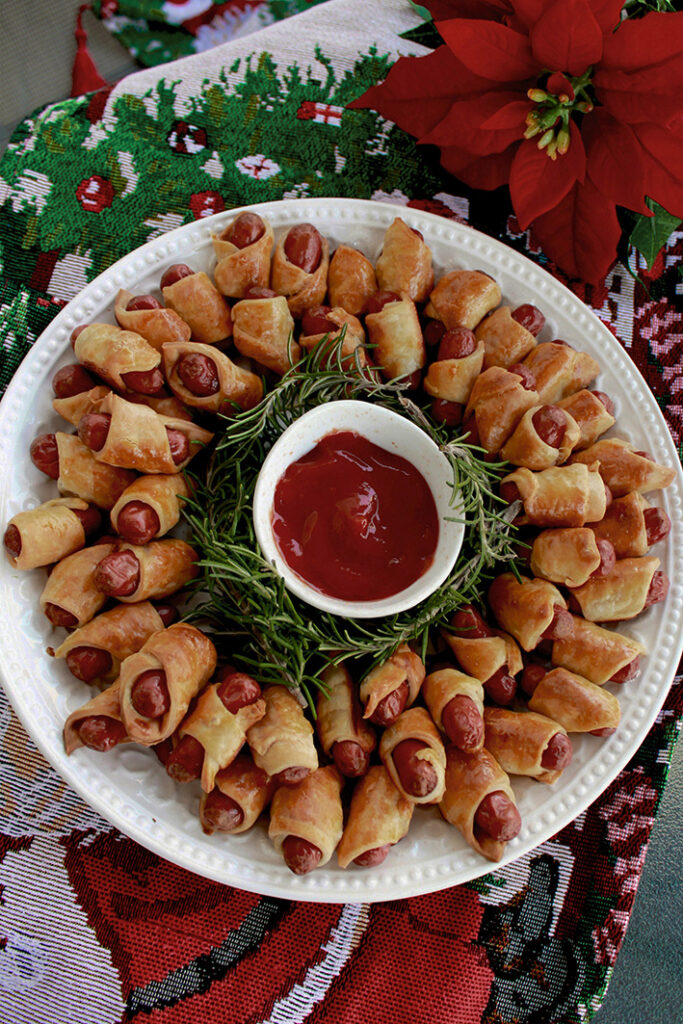 Yum! Yum! Yum! You can't go wrong with this mini sausage Christmas wreath that's a great appetizer to start your Friendsmas. It's a quick, easy recipe to make!
To get started, you'll need these ingredients:
shortcrust dough
mini sausage
egg wash
ketchup
rosemary sprigs (for decoration)
Find out more detailed instructions in this post.
Friendsmas Game Ideas
You really can't go wrong with games – if anything, we highly recommend having 1-2 game ideas to make everyone have a good time.
If some of your friends don't know your other friends, one way to get them to bond is through games! Friendsmas games really break the ice and will make your time together more entertaining and special.
Game ideas could be a challenge like the "Who Can Do It?" game a speed round of charades, or a hilarious madlib printable. We've compiled our favorite Friendsmas game ideas that will be sure to end the night in laughter and fun!
Friendsmas game printables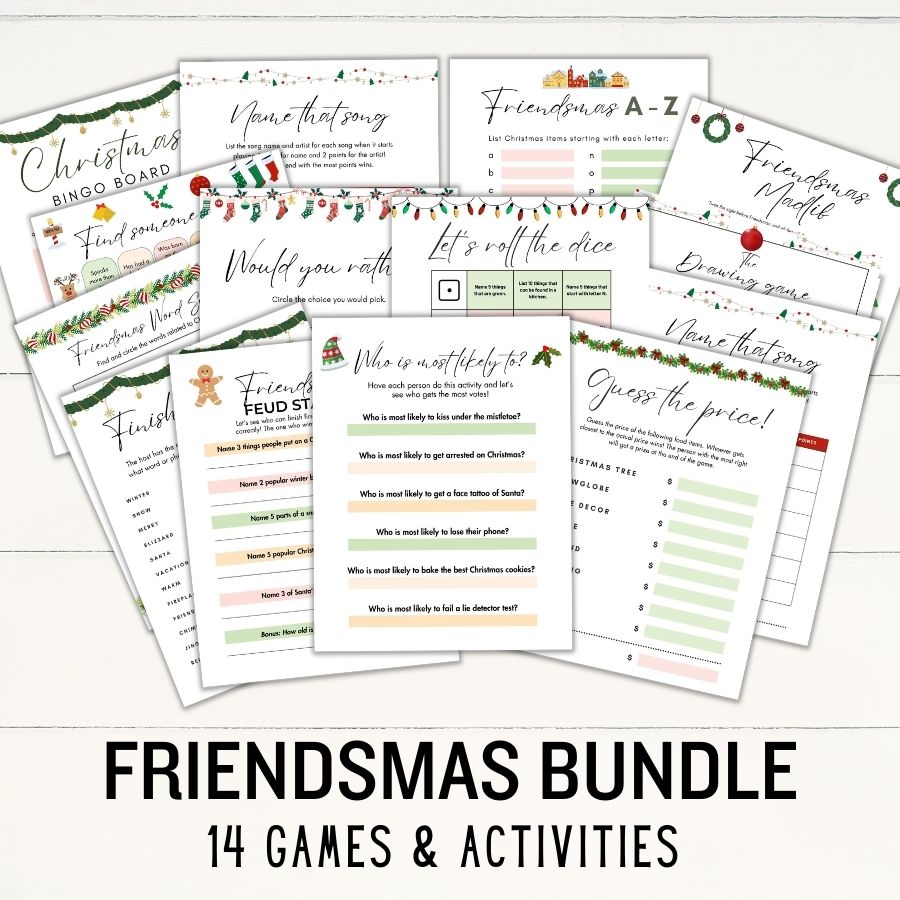 We're currently running a BIG sale for our Friendsmas game bundle that contains 14 games & activities to do with your friends. This is a perfect icebreaker activity that will bring lots of fun and laughter together!
CLASSIC GINGERBREAD house ACTIVITY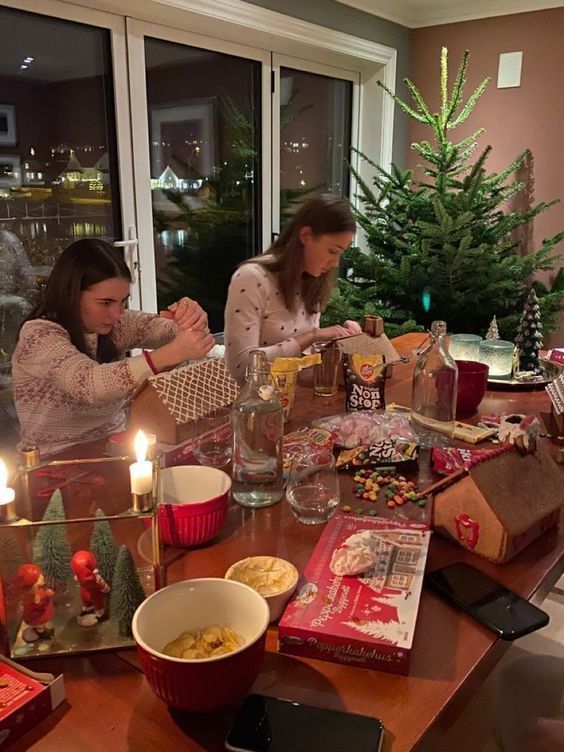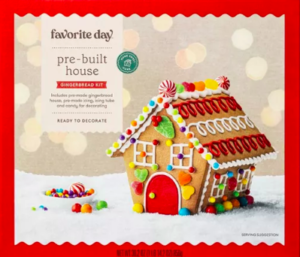 MINUTE OF FUN GAME
Speed CHARADES
INFLATABLE RING TOSS GAME
Christmas card game
Friendsmas gift ideas
Friendsmas gift ideas or party favors are the little tokens of appreciation that take a Friendsmas party to the next level!
This is definitely optional though so don't feel pressured to offer party favors and gifts if your budget is tight. These are just some ideas if you'd like to give these to your friends before or after Friendsmas.
lottery tickets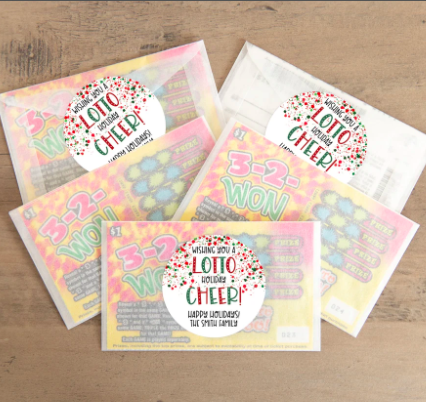 HOT CHOCOLATE JARS
Christmas house bags
Final thoughts about Friendsmas ideas
We hope you enjoyed reading this post about this ultimate guide to Friendsmas ideas that you can do this season with friends.
Don't stress! Planning ahead will really help with stressing about all the little details. If you feel like financially, you don't have the budget, then honestly a nice dinner outing or asking friends to contribute a $20-30 donation could help out a lot.
You could also DIY a lot of decorations instead of buying, and it doesn't have to be super fancy. Essentially, Friendsmas is about community and friendship.
All the aesthetics and Pinterest perfect vibes don't even measure up to how precious it is to have your friends celebrate with you. 
Just enjoy your time together and have fun! 🙂
Which one of these Friendsmas ideas do you think of trying?
We'd love to know in the comments down below!
Related articles
30 Most Thoughtful Christmas Gift Ideas For Girlfriend (2023)
31 Best Christmas Gifts For Boyfriend He'll Actually Want (2023)
Alphabet Date Ideas: Finding Love One Letter At A Time
33 Fun First Date Ideas For College Students That Aren't Boring
This post was all about Friendsmas ideas.